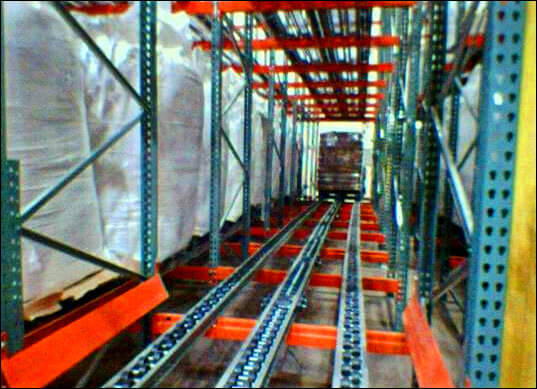 12-Deep Pallet Flow Installation- Manawa, Wisconsin
Pallet Flow Installations for first in, first out systems
This warehouse installation project was for a 15 bay, 7 high, 12-Deep Pallet Flow Storage System for food products in Manawa, Wisconsin. This system is excellent for pulling product for a first in, first out (FIFO) situation like food storage, rotating products efficiently, saving money. With the FIFO system, pallets are loaded in one end and are pushed back to the other end, where they are then at the front of the row on the opposite side. The first pallet put into such a row is the first one taken out at the other end. This system is advantageous for material with an expiration date or wherever shelf life is a major concern.
While a conventional pallet rack system requires strict stock control to ensure that the oldest stock is used ahead of newer acquisitions, this whole system is built into the construction of a pallet flow rack where the oldest items are automatically used first. Pallet flow racks are intended for use in a storage system where very few different materials are needed.
The use of pallet flow racks creates a number of benefits including operating a safer system than a conventional warehouse. Each area is used for a single purpose, either for loading or unloading, which allows warehouse workers to know where they are and what is happening around them, reducing the risk of accidents.