Palletizer Installation
Wisconsin Robotic Palletizer Machine Installation Services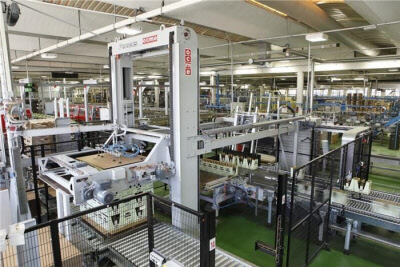 AJ Enterprises warehouse services include expert palletizer system installations. Robotic palletizer machines are designed to automatically stack cases of industrial goods onto pallets for easy transportation and storage. They have allowed employers to easily and effectively move items without the hassle of having to manually stack everything. Ysed in almost every major industry, they provide a great solution to many of your packaging challenges. However, in order to keep everything operating smoothly palletizer system installation must be handled with the highest levels of care. Careful calibration, training, and proper installation are must, and our technicians at AJ Enterprises are specially trained in system integration solutions.
System Modifications by AJ Enterprises
As with any robotics work, palletizer systems can be extremely sensitive. While they may help to increase your production speed, it takes a trained expert to work and install them. Our employees are kept up to date on all of the latest changes and additions in palletizer systems, as we want to provide you with the most effective setup possible. Automatic loading and transportation in the industrial sector is greatly changing the way that businesses handle material handling, and has made the process much simpler for human workers. We will upgrade your system and add any new modifications that might help increase your profits and save on physical labor costs.
Reduce Labor Costs
Before palletizer systems became popular businesses were forced to manually gather and stack pallets so that they could be transported elsewhere. This would often take many laborers moving at an extremely faced-paced rate in order to keep up with production demands. The use of sophisticated robotics and palletizer systems has made this obsolete. The systems pay for themselves rapidly, and the experts at AJ enterprises will work with you to install your idea palletizer system.
For more information on Palletizer Installation or any of our other Wisconsin warehousing services, contact AJ Enterprise today!