Wisconsin and Illinois Mezzanine Installation Services
Get More Use out of every square foot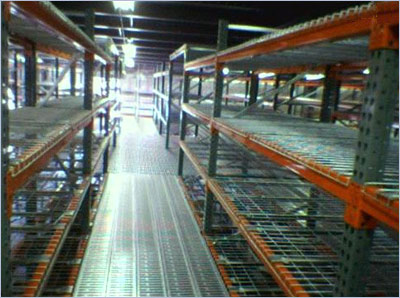 A mezzanine is a free-standing, elevated platform designed to use floor-to-ceiling space more effectively by providing additional levels for work or storage. Most models can be easily deconstructed and relocated, providing flexibility for your work space to reconfigure to meet your needs.
To install a mezzanine, the experts at AJ Enterprises consult with you throughout the entire process:
Planning: Our mezzanine installation professionals help you select the type of mezzanine to maximize the functionality of your work space. Experienced in the installation of all types and brands, our installers offer consultations to assess your space and are equipped to provide same-day quotes.
Design: AJ Enterprises designs and customizes your mezzanine to fit your needs and space.
Installation: Quick and cost-effective, our experts handle installation with great precision to get your new work space up and running as soon as possible. Have an old mezzanine? AJ Enterprises installation professionals will deconstruct or move your old mezzanine.
AJ Enterprises performs installation of all major brands of mezzanines, including:
Wildeck
Steel Solutions
Cubic Designs
Portafab
Steel King
Equipto
And more.
No company offers better service or mezzanine installation value. Cut out the middleman and contact AJ Enterprises.