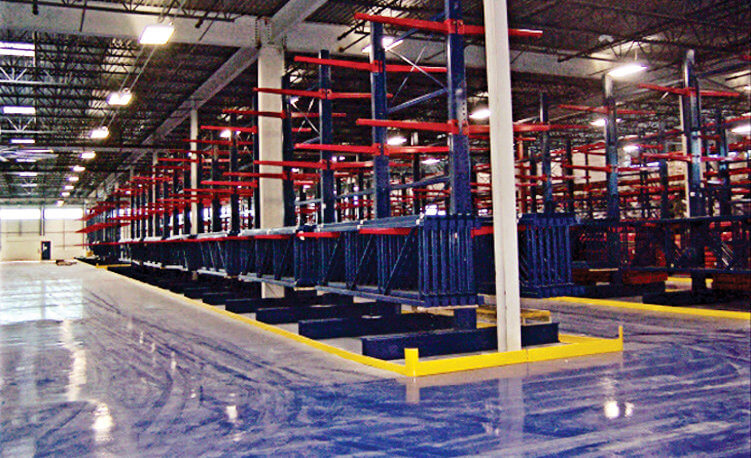 Cantilever Pallet Rack Installation in Beloit Wisconsin
CAntilever Pallet Racking Installation and Design Services
The pallet rack crew from AJ Enterprises completed this cantilever pallet rack installation in Beloit, Wisconsin for a building materials supply company. The pallet rack installation included 200 double-sided cantilever pallet rack frames with a 3" X 3" angle iron guide rail system installed on time, within budget by AJ Enterprise.
The cantilever pallet rack system made the storing of this facility's long, awkward-to-move building materials more convenient and manageable. Drywall sheets, pipes, tubing, lumber, and other lengthy building materials are easily maneuvered throughout the facility and loaded on the cantilever pallet rack system. Cantilever pallet rack systems utilize an open face design, allowing products to be easily maneuvered and positioned, resulting in reduced product damage losses.
A professional pallet rack installation will increase your facility's storage space by up to 90%. You'll be amazed at how much product you can store, allowing your personnel maximum floor space for increased facility efficiency. Check out AJ Enterprises' full inventory of used pallet racking in Milwaukee and Chicago for additional savings! From I-beam cantilever racks in Illinois to standard cantilever racking in Wisconsin, the AJ Enterprises pallet rack crew increases the safety and productivity of facilities like yours.
Contact the specialists at AJ Enterprises today for more information on our new and used pallet racking supplies.