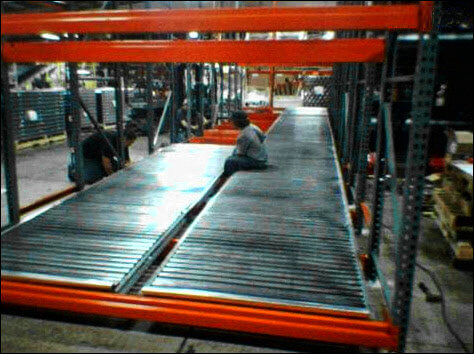 Pallet Flow Installation - Manitowoc, Wisconsin
Pallet Flow Systems Ensure Work Flows
AJ Enterprises installed a 5 bay, 3 high, 12-Deep Pallet Flow System in Manitowoc, Wisconsin for extra wide pallets to store large plastic parts in an assembly plant.
A Pallet Flow Rack increases space utilization in your existing structure, helping avoid the costs of building and maintaining new structures. Sometimes a warehouse may have the need to disassemble existing structures to ensure efficiencies and productive workflow. Our warehouse disassembly services additionally help to maximize an efficient Pallet Flow System. Pallet Flow Racking from Ideal Motion, UNARCO, Steel King Inc., or SpeedTrack will be properly installed when you hire AJ Enterprises, the experts in pallet racking installation.
Contact AJ Enterprises today for a quote on your warehouse pallet rack installation or disassembly project in Wisconsin - Illinois - Michigan - Indiana - Kentucky - Louisiana - Florida - Arizona.